Preschool Mothers Day 2010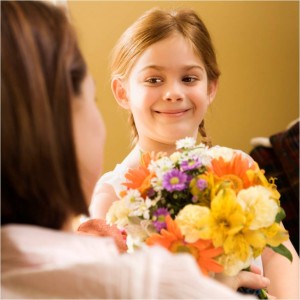 Mother's day for preschool moms throws interesting challenges for dads and caregivers. So here are some ideas on what to do on Mother's Day for preschool moms. The preschool stage is interesting as preschoolers are ready to help and have opinions on what they feel mom likes. So get them involved to make it more meaningful for mom.
Hand printed: Always popular, especially with the date and year, as mom can keep it and look back on it years from now and see how small her babies were. You can frame a hand print painting or get a hand print on a tile which you can laminate.
What mom likes: Preschoolers will surprise you if you ask them for ideas on what they think their mom likes. Mom would like to hear that too!
A preschool perspective on mom: Write up for your preschooler, his responses to questions about his mom. Then frame it in a pretty frame for mom. Some examples:  My moms name, My mom's favorite food, things my mom likes to do, what I like most about my mom, what I like to do most with mom
Heart Art: Get beautiful heart shapes or flowers cut out by the preschooler perhaps, in colors that mom loves and glue them into a beautiful collage. Then stamp or imprint them with various vegetables, brushes, stamps etc.
Preschoolers' suggestions on what she can do for mom on mother's day: Ask and be surprised! Make sure to explain the significance of the day and that the day is really about mom.
Flower Power: Get preschoolers to make a flower or bouquet for mom but cutting colored paper and gluing them onto a bouquet. Or get a fresh bouquet for them to present to mom.
Here are some more articles on Mothers Day 2010: Top 10 Gift Ideas for Mothers Day and What to do on Mothers Day for Moms.
Last 5 posts by Bloggermoms