Preschool Summer Reading – A house is a house for me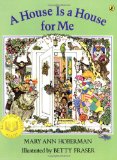 Preschool reading suggestions for the summer? All summer, we will be listing out books we are loving. Do suggest some that you are liking. We would love to hear from your summer reading experience with your preschooler.
A House Is a House for Me
 by Mary Ann Hoberman is a cool book that lists out the names almost every possible house you can think of. Such as a sty is for a pig, a nest is for a bird. It was educational even for me to know the names of so many houses for all kinds of animals. A neat way to learn a bunch of new things while having fun.
Here are some of our other suggestions: Preschool Summer Reading: Abuela
More summer reading ideas are here.
Last 5 posts by Khushi