Raksha Bandhan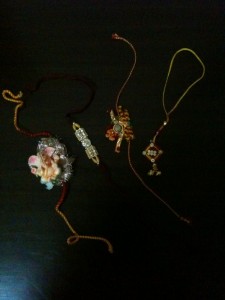 Today is Raksha Bandhan, popularly known as Rakhi in northern India. Its the bond of love between a brother and a sister, one of the deepest and noblest of human emotions. 'Raksha Bandhan' or 'Rakhi' is a special occasion to celebrate this emotional bonding by tying a holy thread which pulsates with sisterly love and sublime sentiments around the brothers' right wrists. Sisters pray for their brothers' long life and the brother promises protection to the sister.
The ritual is observed on the full moon day of the Hindu month of Shravan.
This ritual not only strengthens the bond of love between brothers and sisters, but also transcends the confines of the family. When a Rakhi is tied on the wrists of close friends and neighbors, it underscores the need for a harmonious social life, where every individual co-exist peacefully as brothers and sisters. All members of the community commit to protect each other and the society in such congregational Rakhi Utsavs, popularized by the Nobel laureate Bengali poet Rabindranath Tagore.
The pages of Indian history testify that the Rajput and Maratha queens have sent Rakhis even to Mughal Emperors who, despite their differences, have assuaged their Rakhi-sisters by offering help and protection at critical moments and honoured the fraternal bond. Even matrimonial alliances have been established between kingdoms through the exchange of Rakhis. History says that the great Hindu King Porus refrained from striking Alexander, the Great, because the latter's wife had approached this mighty adversary and tied a Rakhi on his hand, prior to the battle, urging him not to hurt her husband.
Rakhis are ideally made of silk with gold and silver threads, beautifully crafted embroidered sequins, and studded with semi precious stones. Of course nothing like a self made personalised Rakhi made by a sister for her brother on this occasion. Sisters make sumptuous meals for brothers and the feast is never complete without traditional Indian sweets like Gulab Jamun, Ladoos and Rasmalai. The brothers shower their sisters with love, affection and gifts.
Miles away from home, I talked to my son about this lovely Indian festival and he was overjoyed to have received Rakhi from my nieces in India by post. As requested by my sister, I tied the sacred threads on my son's right wrist and he proudly showed them to all his friends.

zulily coupon code
force factor reviews
hepatitis b vaccine
fox sports midwest
city of round rock
Last 5 posts by indrani