Red Light Beckoning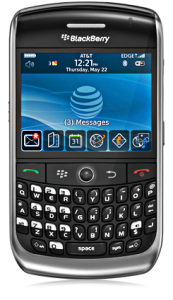 Blackberry…..whats not to love? That perk of work that languishes in your pocket or purse as a constant reminder – you are a working woman, you belong to an organization, there may be an email from your boss creeping into your pocket right now. I dont think I could work without my blackberry – it helps me multi task – manage kids and home. Bt even then I dislike the tyranny of the red light.
If you have a blackberry, you know what I am talking about. You may think you are through with your emails but then the red light starts. On. Off. On. Off. Right in the corner. Telling you – hey, you may be ignoring me, but there is something here for you. Feel free to ignore, but its here.
Sure, go around the kitchen fixing dinner, but its here, something….maybe urgent….maybe earth shattering….or maybe a note saying your mailbox is full….you will never know till you look. But feel free, ignore me as you stir the pasta. But I am here.
Oh hi! Here I am on your nightstand. I even woke you up with your alarm.  There is something here for you. On and Off. On and Off. You want to meditate? Ok, well, its just another thing to ignore. But I am here!
When I left working a few years ago, I gave up, with great joy, my blackberry. Freed off email and internet, with a good old phone that had been the coolest one on the market in 2001, I relished being disconnected. But probably the best part was never to have that red light beckoning me as I tried to focus on other things.
And now that I am back, using my blackberry to the hilt, here I am again, enraptured, ensnared by that red light that goes on and off. On and off. Does that happen to you?
Last 5 posts by Khushi