Reducing Minivan Mayhem – Travel Potty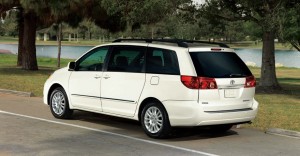 There's nothing worse then driving around town in the rain with a toddler that has to go to the bathroom urgently.  Even though he went before we left the house.
I used to end up stopping at a fast-food restaurant,  just to have him pee in his pants while I try to put toilet paper around the seat to avoid germs.
And you know, my other son has managed to touch all the gross parts of the bathroom. Yes, I know I'm a germ-a-phob.  But I'm also practical. 
If you have a mini-van you are the luckiest mom ever because you have room like I do to have your own toilet.  You can avoid any wet pants or gross germs.  My friend recommended the Fisher-Price Potty On-the-Go

, which comes with its own carrying case.  I carried it with me to public places when my son was learning to use the potty.  Then, I bought an additional toilet just for the van.  It was especially practical on our seven hour drive to Disney World. My portable van potty has definitely reduced my stress level and who can't use less stress. Right?
Last 5 posts by Suzie