Roasted Pasta Salad – Kids and Healthy Breakfast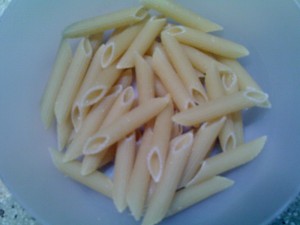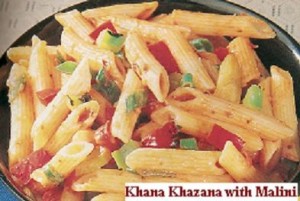 Pasta is a generic term for Italian variants of noodles, food made from a dough of flour, water and/or eggs (which is boiled). Italian pasta is traditionally cooked al dente (Italian: "to the tooth", meaning not too soft).
Pasta is generally served with some type of sauce. Common pasta sauces are pesto and ragù alla bolognese (which usually adds meat to the sauce), simple sauces (tomato sauce) and also a spicy sauce (made with tomato, garlic and olive oil) with the addition of fresh vegetables of one's choice.
This is the recipe of Roasted Pasta Salad, which can be enjoyed as a salad or as a breakfast item.
If you dont have time during the working days, enjoy it on the weekends.
As my kid loves penne pasta, I tried out this pasta salad using penne pasta. Vegetables like carrots, beans, peas, button mushrooms can be added and even shredded chicken can be added to turn this dish to a full meal.
Ingredients:
200gms (2 cups) penne pasta

1 green capsicum, large

1 red capsicum, large

1 tbsp olive oil / white oil

3 tbsp cream / mayonnaise

8 cups water (1 cup 200 ml)

1 tsp salt

1 spring onion, finely sliced (garnish)
Dressing:
4 tomatoes, large

3 tsp ready made tomato puree

1 tsp crushed garlic

1 tbsp white vinegar

2 tbsp olive oil

1 tsp oregano

1 tsp red chilli flakes

Salt to taste
Procedure:
To prepare Pasta, boil water in a large sauce pan, add a little salt and few drops of olive oil.

Add pasta to boiling water, stir occasionally so that pasta does not stick to the bottom of the pan.

Cook for 7-8 mins till pasta turns soft but firm. Remember not to overcook as the pasta turns too mushy.

Remove from fire and leave pasta in hot water for 2 more minutes.

Strain water and leave pasta in the strainer till all the water drains out.

Add 1 tbsp olive oil to the pasta to prevent them from sticking to each other.

Transfer the cooked pasta in a bowl, add cream / mayonnaise, mix well and keep aside.

Wash capsicums thoroughly and roast directly on the gas flame (make sure to roast lightly so that the capsicums are not blackened).

Remove from fire, cool and chop the roasted capsicums into small pieces. Add to the cooked pasta.

To prepare Dressing, blanch tomatoes in boiling water, remove from water, peel the outer skin of the tomatoes and grind in a blender to form a smooth puree.

Heat oil in a pan, add garlic, stir for 2 mins and add the fresh tomato puree, ready made puree, white vinegar and salt. Mix well and cook for 2 more mins.

Remove from heat and pour over the pasta and stir gently.

Garnish with chopped spring onions, chilli flakes and oregano and serve with buttered bread.
This is for the event "Kids and Healthy Breakfast"
Last 5 posts by Malini