Ruffle of Motherhood!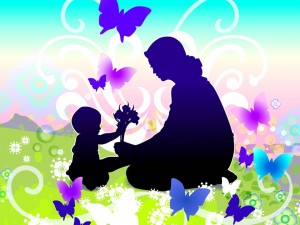 These days having sound sleep at night seems like a mirage to me- something illusory and unattainable. Considering I have a 4 month old, I never imagined that I would get more then 2 at the maximum of 3 hours of sleep at a stretch. So I was mentally prepared for that. But recently our toddler has started waking up in night too. So with the team efforts of our toddler & infant; they manage to ensure that I do not dare to go into the deep sleep. Some nights I am literally awake for every hour- either nursing my baby or patting toddler back to sleep. Last night I had a breakdown because of my weeklong sleep deprivation and I told my toddler that you have to sleep because mama is getting hurt by waking up so frequently for her. She immediately said "I love you mama, sorry mama". That just charged me up with the boost of energy to face her continued whining for the next wee hours of the morning.
Sometimes it is so funny to experience mix of contrast emotions all at the same time. One moment I am very mad that my toddler spilled something and next moment I feel so much proud of her because she went potty all by herself or interacted with her baby brother. I had heard that watching your kids interacting with each other is just out of the world experience. And it is so true. The other day my daughter's day started with whining because she didn't want to go to school. So here she is seating in her booster chair whining & drinking her milk; when my son is seating in his bouncer while I am fixing her lunch pack. All of sudden little Aarav started crying because he just wanted change of the scenery or wanted to remind of his presence or so. So I told Aarohi to stop whining because I cannot do everything at the same time. And there she goes "its ok mama, I am showing "Kelly" (her soft toy of cat) to Aarav" and continued her whining again! That moment was so adorable that got tears in my eyes. Suddenly I could see my toddler growing up as a big sister who is taking care of her baby brother despite of facing her own challenges. I just love being a mother and so much thankful for my kids for blessing me with this enriched life. Do you as well get all of these mixed feelings?
Last 5 posts by Ketaki