On Mother's Day: A house for my parents
How often does one imagine that one might design the future of one's parents? Right from when we're little kids, we rely on our parents to design our lives. Then at some point, if we're truly growing up, that changes, and we relate with them as adults do with other adults. Then life seems to come full circle, and we have an opportunity to contribute back to their lives. I had the fortune of one such opportunity: to design a home for my parents!
When I trained as an architect, of course, I didn't imagine having my own parents as clients. But I did repeatedly envision designing and building something in rural India, where space abounded, where the air was clean, and where things were quiet, slow and simple. And true to that vision, about 8 years ago my parents bought a piece of land in Bolpur, West Bengal, the little village adjoining Santiniketan, Rabindranath Tagore's dream university. After 30 years of living all over India (and abroad), my parents had moved back to Kolkata, and my father began to feel a sudden draw to the rural outskirts of Bengal, reminiscent of the little town of Murshidabad in which he had been born and raised in his early years.
Buying a piece of land, of course, was only a start – a long, long way from actually designing and building something. For one, a building project brings out all the dysfunctions of a family. Even highly compatible couples are known to totally lose it over designing a home; typically, they have been happily making do with too-small, too-big, too-inconvenient, too-expensive-to-maintain … too-anything houses all their lives, but contemplating a custom design suddenly and unexpectedly brings forth all kinds of latent, unspoken, unmet needs (not just in living conditions, but also in overall life-satisfaction and in the relationship itself). No, I need this; but I need that! And what, the architect is also a member of the family? A perfect recipe for total disaster!
Second, this relatively inexperienced architect was also sitting in Seattle, drawing and planning long-distance (albeit after hours and hours of meetings in-person on an India trip). And she was working with local contractors in rural Bengal who had never done a project like she was envisioning. Alumin(i)um windows, in a house, in Bolpur? At one point, the land was dug up for the foundation, and monsoon waters had filled the gaping hole. At another point, the second floor sat scaffolded for several months. (Seeing the bamboo-and-rope scaffolding, one of my irreverent American friends pulled my leg, "Oh my goodness, when are the monkeys coming to do the electrical connections?")
As the house inched its way up from the ground at snail's pace (… it's the Monsoon season, it's Durga Puja, it's Christmas …), one roadblock or another came up at every turn. The window frames are delayed. They cannot find the right length of glass. They have never done exposed concrete before; how do they water-seal it? The stone is delayed – supply is stalled. They're short on one of the light fixtures I selected, can I recommend another? (I picked them personally from a wholesale row in Kolkata – it was great fun.) Which paint goes where? They cannot find the light-switches on the plans. What about cabinetry? Did I provide enough storage – quick, draw up some lofts! Oh, I never designed the window grills – need to draw up a custom design! Can we re-use old ceiling fans from the now-sold Delhi flat? One by one these inevitable hurdles were surmounted with quick thinking on my feet, patience and good communication, but I kept having freak-out moments. What if I was wasting away my parents' hard-earned, lifelong savings? What if I was having something built that they or nobody else would like? How would the house do in the summers? And in the heavy rains? Would my parents be able to enjoy this house to the fullest, and receive a reflective, energizing, creative time in their golden years?
So, when the house was finally completed in late 2009, I waited with bated breath to see it. I had spent nearly 18 months in pursuit of being (something), and suddenly, I had two products from my winding creative journey – a book, and a house. When I finally visited India this March and saw the finished house, my breath nearly stopped. It took me 3 or 4 hours to stop ruthlessly critiquing my own work, and feel the house – with all the great intentions and energy and love I had put into designing it – envelope me in a big hug. And most of all, I saw the smiles on my parents' faces and the light in their eyes. They had fallen in love with the house, replete with all its strengths and flaws. And like a mother who loves its child unconditionally, I too began to love it, for all its strengths and flaws.
The house I had designed had become home. I felt grateful to have had enough of my parents' faith – through thick and thin- that they had put their golden years in my hands. I had grown up!
Photographs by Jason Week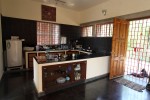 Last 5 posts by Shahana Dattagupta