Shubho Bijoya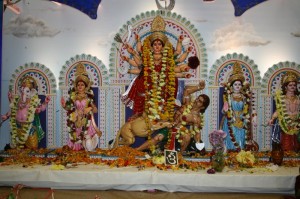 Shubho Bijoya! When I was small, Bijoya felt sad. The last day of the long awaited and always fun Durga Puja, the nearing of the end of the Puja vacations. The need to go back to a routine and the 'Bhaashans' and the departure of the pomp and grandeur of the Durga Protimas.
Bijoya and being bundled into a car and being taken from house to house, touching the feet of innumerable adults, eating tons of sweets, meeting people I sometimes met once a year. Sometimes luchis, with potato curry (alu chorchori) or sugar. An exhausting ritual that I did not quite value then.
But when I moved out of Kolkata, to Dilli, it was more manageable. A smaller group, and more intimate. Now in the US the going from house to house has been replaced by meeting together at one place. The same sadness, the same happiness, but a different form.
Bijoya wishes and shubho bijoya!
Last 5 posts by Khushi