Summer Event: Chocolate Ice Cream Milkshake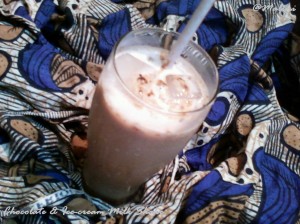 Dear Bloggermoms!
It's a long time since I have written something…Well first of all Happy belated Mother's Day to all fellow moms….The modern Mother's Day holiday was created by Anna Jarvis and it's now celebrated on various days in various locations across the globe.  
Summer is here and it's time to enjoy those cool "beat the heat" drinks / coolers…Easy to prepare and takes very little time also…
Here are some of them…..  
Chocolate Ice-cream Milkshake
A Milkshake is a sweet, cold beverage which is made from milk, ice cream / iced milk and sweet flavorings like fruit syrup / chocolate sauce and sometimes served with whipped cream for a richer taste.
A simple version of chocolate & ice-cream milkshake, with ready & available ingredients at home.  
Ingredients:
§         3 – 4 tsp chocolate syrup
§         4 scoops vanilla ice cream
§         2 cups chilled milk
§         crushed ice / Ice cubes  
Proedure:
1.      Place ingredients into a blender, cover and blend the ingredients on high until ice cream is dissolved and you have reached the desired consistency (Add three parts ice cream for every one part milk for a thick shake).
2.      Pour into tall serving glasses and serve with crushed ice / ice cubes, whipped cream or shavings of chocolate on the froth. Enjoy!
More drinks to come!
Last 5 posts by Malini