Summer Event – Long Car Trips with Kids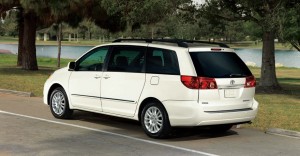 Planning to drive long distances with kids this summer? I just got back from a long road trip to Disney with my three year old and my six month old. So I thought might be useful to write about traveling in cars with kids while planning your summer vacation. Here are some ideas that may augment yours or even spark new ones. Do add your tips to the post as well!
Car Companions
Books to read and look at: Of course a lot depends on the age of your kids – if they are old enough, books may be good companions. My son, who is new to reading, loved looking at new books during the trip but as a child reading while riding always made my eyes ache. So ask your kids if that is the case. If not picture books on their favorite topics may help fuel curiosity. I like pictures with a lot of details as they tend to have their own stories which the kids can imagine and talk through.
iphone/ Handheld Video Games : Sometime can occupy kids for hours
Books on Tape/CD: as they grow older or if you can get appropriate books for kids. Libraries are a great place to get these. My husband and I even listen to business books. My son preferred the words and narration even though he couldn't follow much to some of the kiddy books. On the way back from Orlando we stopped at a Cracker Barrel and saw that they have a 'Books on CD' rental where you can rent a book at one Cracker Barrel and return at any other location. The one I checked out had some books for teenagers. You have to see if they match your choice, though,
Music is of course a much fought over but loved option. When my son was younger he loved 'Wee Sing in the Car' which had travel related songs. Also take songs in different languages. My son learnt to love Spanish songs this way, and it means we end up listening to them a lot.
DVDs: My next car I am pretty sure will be a minivan with a DVD player. I think DVDs work great when you are trying to cover ground with the kids without stops. I think the library again is a great place to get these for free.
Toys and Crafts: The dollar section of Target is a great place to hunt for quick silly toys and crafts to pack in a surprise bag which you can then dole out as the trip progresses. Of course, favorite toys are an obvious – The boys played with cheetahs a good part of their ride. You can also carry washable markers, coloring books etc.
Games and Activities
As kids grow older, card games, crossword puzzles etc provide welcome respite.
I have never tried it as the boys are too small but how about an English Antakshari? Trying to think of songs which start with whatever sound the last one end or even trying to think of songs with each English alphabet. And if your kids know a second language, well try that!
I Spy – or counting number of red cars, Hampton Inn advertisements and so on be interesting
Tell a story – each member makes up a story to tell all others. Or start a story and everyone gets to add 2 lines to it. Or each member reads out a book in turn.
GPS Hunting – Pass your GPS or iphone to the kids and have them identify roadside attractions, hotels etc that are coming up.
Sing-a-long – A great game to do with cousins and kids and a favorite of my own road trips
Route Detectives – Print out maps of your route for the kids and have them mark out pit stops, cities with interesting names etc as you go along. Or print a map of the area and have the kids mark cities to plot the route.

Dora's post on standing in line and the comments also has good ideas that can be used when

driving with kids for long distances

.
Snacks and Food
Carrots, celery, grapes, apples, bananas ( healthy ones and not the over ripe ones that will lend a banana odor to your car after one pit stop under the sun), raisins – I like to get fruits and veggies in as on the meal stops we tend to go for the ..ahem…less healthy variety of foods.
Our cousins who visited recently carried really good bread – like focaccia from Costco. They tasted great on the road, and help make breakfasts less expensive
If your kids are older and will sit longer, pack sandwiches so that you can skip a meal stop and stop at a scenic location or rest area instead
Breakfast foods – like individual snack cups of cereal, breakfast bars (I am an oatmeal to go bar junkie) and juice boxes. That way you can start really early while the kids are sleeping and make up some ground, then breakfast in the car

 
Do add your ideas and tips! We want to go the beach later this summer and I am looking forward to hearing from you. You can leave comments below or register to make your own post.
Last 5 posts by Khushi