Summer Event – Two more cool summer drinks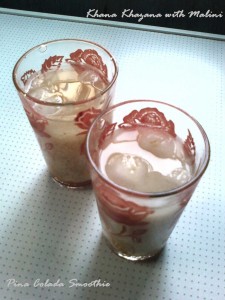 Pina Colada Smoothie
Pina colada smoothie is a cool and refreshing summer drink with the goodness of coconut milk & soy milk and essential vitamins from banana and pineapple.
Ingredients:
§         50 ml chilled coconut milk
§         500 ml chilled soy milk
§         1 ripe banana, peeled and sliced
§         1 small pineapple
§         4 tbsp powdered sugar
§         1 tsp vanilla essence
Procedure:
§         Peel the banana and make round slices. Cut the pineapple into chunks. Freeze the banana and pineapple pieces.
§         Combine the coconut milk, soymilk, sugar, vanilla essence, banana and pineapple chunks in a blender and blend until smooth.
§         Pour the pina colada smoothie into fancy serving glasses. Serve chilled with ice cubes / crushed ice and consume immediately.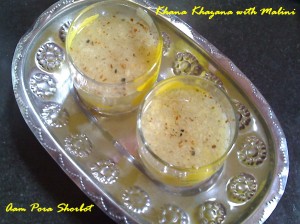 Aam Pora Shorbot (Roasted Mango Sherbet)
Aam Pora Shorbot, Beler Shorbot (sherbet made with passion fruit), Zafrani / Kesari Sherbet, including yogurt drinks like Ghol / Chaas and Lassi are traditional coolers and excellent remedies to beat the sweltering summer heat. They help in digestion and the salt & sugar combination of the drinks keeps the electrolyte level of the body in control.
Aam Pora Shorbot (sherbet prepared with roasted mango pulp) is useful in rehydrating the body and preventing Heat Stroke / Sunstroke (A metabolic disorder where the body temperature increases and the body is unable to dissipate the heat and can even lead to unconsciousness).
Ingredients:
§         2 raw mangoes
§         a pinch salt (per glass or to taste)
§         3-4 tsp sugar (per glass)
§         150-200 ml water (per glass)
§         a pinch of rock salt (to garnish)
§         a pinch of roasted cumin seeds (jeera) powder
§         ice cubes
Procedure:
1.      Wash the mangoes and cut a small portion (circular shape) at the tip of the mangoes.
2.      Roast the mangoes on gas flame while turning them to ensure even roasting on all sides.
3.      Remove from flame and let them cool. When the mangoes are cool enough to handle, remove the outer skin and discard the pit.
4.      Collect the mango pulp and accumulated juices in a mixing bowl and coarsely mash the pulp.
5.      While serving, put 2 tsp of roasted mango pulp (if you want it thick, put more pulp) in a glass. Add sugar and salt (mix as per requirement) and requisite water and stir well so that the sugar is completely dissolved.
6.      Sprinkle a pinch of rock salt and roasted jeera powder, stir and serve with ice cubes.
Sit back, relax and enjoy the drinks….
These all are for the "Summer activities and ideas event". Click here for details…
Last 5 posts by Malini