Summer Event – Watermelon Cooler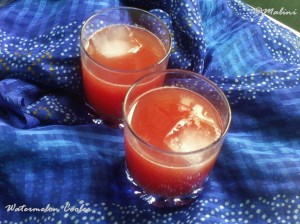 Watermelon Cooler
Watermelon is not only delicious, but extremely healthy, as well. Though watermelons can be found in the markets throughout the year, the best quality & sweet watermelons are available only during summer time. Because of its higher water content, watermelon is ranked more valuable than other fruits.
Ingredients:
§         1 large watermelon, de-seeded & chopped
§         6 tbsp powdered sugar (to taste)
§         1 tsp rock salt
§         1 tsp roasted cumin seeds powder
§         crushed ice / ice cubes (as required)
§         4 glass chilled water (as required)
Procedure:
1.      Put chopped watermelon, powdered sugar, rock salt in a blender. Add crushed ice & chilled water and blend again.
2.   Pour into fancy glasses, sprinkle roasted cumin seeds powder and serve with ice cubes
Last 5 posts by Malini