Thanksgiving and Thanksgiving Recipes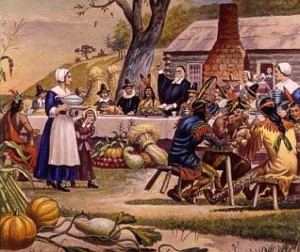 Thanksgiving day is commonly known as a fall harvest festival and a time to give thanks for the harvest and to offer prayer for God's continuous grace. It has become one of the biggest holidays, celebrated on the second Monday of October (Canada) and on the fourth Thursday of November (USA). People travel all over the country to spend Thanksgiving dinner with family members, relatives and friends. This day also marks the unofficial beginning of the winter holiday season.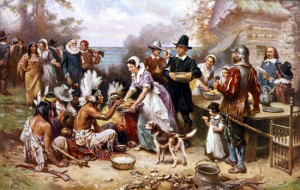 The First Thanksgiving was celebrated to express gatitude to God and the Native Americans for teaching the pilgrims how to harvest food and survive harsh winters. Thanksgiving can also be traced back to the Ancient Hebrews and Greeks.
Ancient Hebrews held a special 8 day feast to celebrate their harvest season.
Ancient Greece a 9 day harvest festival was dedicated to Demeter, the Goddess of Agriculture.
Thanksgiving Menu
A typical Thanksgiving feast consists of roasted turkey / stuffed turkey / deep fried turkey, accompanied by stuffing, mashed potatoes and gravy, cranberry sauce, sweet potatoes, mashed potatoes, cranberry sauce, a variety of other vegetables, followed by pumpkin, apple and pecan pies for dessert.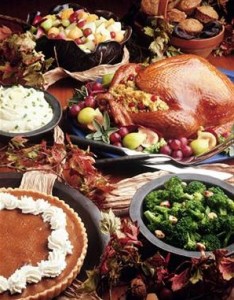 Here are some of the traditional Thanksgiving recipes
Roast Turkey
Ingredients:
whole turkey: 1 (18 pound)
Unsalted butter, softened: 1/2 cup
Turkey stock: 1 & 1/2 quarts
Prepared stuffing (as per your choice): 8 cups
salt to taste
Black pepper, freshly ground to taste
Method:
Preheat oven to 325 degrees F (165 degrees C). Place rack in the lowest position of the oven.
Remove the turkey neck and giblets, rinse the turkey and pat dry with paper towels. Place the turkey, breast side up, on a rack in the roasting pan. Loosely fill the body cavity with stuffing. Rub the skin with the softened butter and season with salt and pepper. Make an aluminum foil tent over the turkey.
Place turkey in the oven, and pour 2 cups turkey stock into the bottom of the roasting pan. Baste all over every 30 mins with the juices on the bottom of the pan.
Whenever the drippings evaporate, add stock to moisten them, about 1 – 2 cups at a time. Remove aluminum foil after 2 & 1/2 hours. Roast for approx 4 hours until the turkey is done.
Transfer the turkey to a large serving platter, and let it stand for at least 20 – 30 mins before carving.
Sweet Potatoes
Ingredients:
Sweet potatoes, mashed: 4 cups
Eggs, beaten: 4
Vanilla extract: 2 tbsp
Cream: 1/2 pint
White sugar: 1/2 cup
Butter: 1/4 pound
All-purpose flour: 1/2 cup
Brown sugar: 1 cup
Pecans, chopped: 1 & 1/4 cups
Method:
Butter one 2 quart casserole dish. Preheat oven to 350 degrees F (175 degrees C).
Take a mixing bowl, combine the sweet potatoes, white sugar, vanilla extract, beaten eggs and cream. Whisk and blend well and spread evenly in casserole dish.
Prepare the topping by combining the butter, brown sugar, flour and pecans. Mix well until crumbly in texture and sprinkle evenly over sweet potato mixture.
Bake for 30 minutes in the preheated oven. Serve hot.
Traditional Green Bean Casserole
Ingredients:
Cream of Mushroom Soup: 2 cans (20 ounce)
Cheddar cheese, shredded: 1/2 cup
Milk: 1/2 – 1 cup
Red pepper, chopped: 1/2 cup
Cut green beans: 8 cups
Fried Onions: 2 & 2/3 cups
Black pepper, freshly ground: 1/4 tsp
Method:
Stir soup, milk,  red pepper, beans and 1 cup fried onions in 3-qt. casserole. Sprinkle half portion of the cheese and black pepper and stir well.
Bake at 350 degrees F. for 25 mins or until hot. Stir.
Top with remaining onions and cheese. Bake for 5 mins more. Garnish with chopped almonds and serve hot.
Cranberry Sauce
Ingredients:
Fresh cranberries: 1 packet (12 ounce)
White sugar: 1 cup
Orange juice: 1 cup
Method:
Place a saucepan over medium heat, pour orange juice and add sugar. Slowly dissolve the sugar in the orange juice.
Stir in the cranberries and cook until they start to pop (8-10 mins). Remove from heat, and transfer to a bowl (Cranberry sauce thickens as it cools).
Fresh Pumpkin Pie
Ingredients:
Sugar pumpkin: 1
Pastry for a 9 inch single crust pie: 1
Eggs: 2
Brown sugar: 1 & 1/4 cups
All-purpose flour: 1 tbsp
Milk: 1 can (12 fl oz)
Salt: 1/2 tsp
Pumpkin pie spice: 1 & 1/2 tsp
(substitute with Cinnamon powder: 1 tsp; ground dry ginger: 1/2 tsp; ground cloves: 1/2 tsp; nutmeg powder: 1 tsp)
Method:
Cut pumpkin in half and remove seeds. Place cut side down on a cookie sheet lined with lightly oiled aluminum foil. Bake at 325 degrees F (165 degrees C) for 30 – 40 mins. (Poke with a fork to check whether the flesh is tender).
Cool until just warm. Scrape the pumpkin flesh from the peel. Carefully mash / puree in a blender. Increase oven temperature to 450 degrees F (230 degrees C.)
Take a large bowl, slightly beat eggs. Add brown sugar, flour, salt, 2 cups of the pumpkin puree, pumpkin pie spice and  milk gradualy and stir well continously to ensure even mixing.
Pour mixture into the unbaked pastry shell. Place a strip of aluminum foil around the edge of the crust.
Bake 10 mins at 450 degrees F (230 degrees C), reduce the oven temperature to 350 degrees F (175 degrees C). Insert a toothpick in the centre to check whether pie is done (If it comes out clean, it's done or bake for another 40 – 50 mins.
Remove the strip of foil about 20 minutes before the pie is done so that the edge of the crust will be a light golden brown. Cool pie, and refrigerate overnight for best flavor. Serve warm or chilled, plain or topped with whipped cream or ice cream.
Happy Thanksgiving to you all!!!!
img src: google
Last 5 posts by Malini