The age of Ben10 and Aliens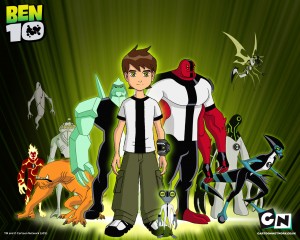 I am quite against the idea of letting my son be influenced by certain cartoon characters which depict violence of any form but I guess some things in life are inevitable. So despite my supreme efforts in keeping my son out of the influence, he is in Ben10 mode and form. He talks about Humungousaur (I don't even know what it's called exactly) and other aliens that I can't now recall.
I tried not to talk about it for some time but I realised that whenever the topic came up, he would talk with more intensity and vigour. A well meaning friend advised me not bar him from anything as it creates more curiosity and excitement. So I have started creating stories out of Ben10, making him caring, sharing and giving, kind and gentle Ben10. My son so far gets engrossed in those stories and some where it is leading to very positive results.
And somehow I realised how much time has elapsed since the time I was a child and my son and perhaps the generation gap. Can't say about other countries, but at least in India, amongst my friends it was more books and less TV. and so was the influence. I grew up reading Enid Blyton, particularly Famous Five and I secretly wished I could be like Georgina or George as she was referred to in the series. I was shocked to know that she was banned in the United States because of racism and imagine a whole generation grew up reading her novels. Then there were Nancy Drew and Hardy Boys before I moved on to reading Charles Dickens and Robert Louis Stevenson and other time less authors.
I wondered whether it was just the time, I as an individual or the family I was fortunate to be born into that inculcated reading habit in me. Perhaps a mix of all. In my childhood days, there was not a single dedicated channel for children unlike the Generation Z kids have plenty of choice throughout the day and television was more or less limited to Doordarshan (cable came in only when I was in 10th grade) So in terms of shows for children we were limited to Star Trek & Different Strokes on Sundays and Vikram aur Betal and Jungle Book on Saturdays. So after lunch, my Dadu insisted we read a story book. And all our gifts, birthdays, Christmas and moving on to a new grade were more often than not books. Also the merchandise available now of the popular cartoons be it Ben10, Bob the Builder, Thomas Engine or Dora was not so easily available. So the exposure was perhaps very limited.
Over the weekend my son asked "Mom do you have a book to read?"
I relied "Yes, but why do you ask?"
"Because Papa and I want to have some boys' time in my toy room and I have Bob the Builder, Thomas Engine and Ben10 toys with which Papa and I can play but no Dora with which you could have played. So was thinking if you would like to read a book instead!"
Interesting that he knows right now which cartoons are meant for boys and which are for girls and this is after I have been very conscious of not stereotyping any colour, toy or game or even cartoons for a boy or a girl. I guess some things in life are in evitable and few which children learn without anyone teaching them.
Last 5 posts by indrani