The Immigrant Diaries – A Story – Edition 1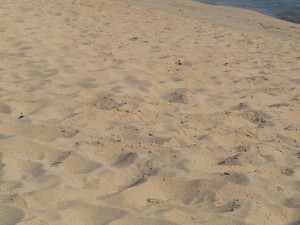 Friends, this is a work of fiction. All the characters are imaginary and it is based on coming to the US on the as an immigrant, and then not working, and making life work for you. Please feel free to leave comments and provide feedback. This is a new feature I am trying so I would love to hear from you.
Next to her an elderly Saddarji snored mildly. Ruchi had been afraid that he would do the Delhi-bus-romeo maneuver and try to rest his seemingly sleeping head on her shoulder and then his hand on her groin, but the old gentleman had perfected a way of sleeping with his head lolling forward in what appeared to be a most uncomfortable manner. Before this he had tucked into his 'Hindu meal' paneer makhani and rotis, while she had picked at some kababs. She was not hungry. Before she left home – a good four hours before her flight, ma had made her favorite dishes. Puris, alu sabji, cholley, chicken tikka masala, prawn malai curry.
 She had been delighted with her window seat. She couldn't see much, except for an occasional brightly lit city below. Sometimes she dozed off but for the most part, she was wide awake. Excitement at her longest journey yet and her first ever international one tingled her toes, crawled in her ankles and calves, throbbing in her temples. And she was doing it alone.
That was not exactly by choice, but like so many aspects of early immigrant life decided by the seemingly omnipotent US embassy. It had taken longer than Arjun's three week India vacation to process her visa. The H4, the spouse visa, which was now stamped in honor on her new, blue, unmarked passport. Very few people know what the H4 stands for, and those who just find out, as she was about to, don't immediately realize the significance. The spouse visa welcomes the spouses of guest workers into the US – you can live, travel, shop, have kids, raise them – but you cant work or earn money. Like so many before and after her, Ruchi did not care. It was her ticket to the US and she loved it.
 She was delighted that her process took so little effort. Just send in the passport, and it came back stamped. No need to stand in the long circuitous queues outside the US embassy, reaching the venue at 3 am, to make sure you get called for your visa interview that day. That is what she had always heard you had to do, from friends going on the H1B work visa or the younger kids in line for the student visa. She had been part of 'strategy sessions' for some of her classmates on what to tell the embassy people. She had heard that they were rude, and if they denied you the visa, it meant months of trouble. She remembered them describing their awe at the number of people lining up every day to covet a visa. She felt privileged, a little arrogant even to have got hers so fast. She made it a point to mention to her younger cousins and friends, as if the fact was a credit to Arjun, or to their newly married status. It was in fact a credit to the times – the year 1999 – when tech jobs were a plenty and techies from all over the world were flooding in through immigration filling up flats in the suburbs and jobs in IT.
She would have to change her flight at Heathrow. Not just the flight, an airport, taking a bus over to Gatwick. This made her a bit nervous. Her father, a veteran of airports had given her many instructions. Arjun had been typically casual. 'Its nothing', he had said 'just follow the signs'.
She would have liked him to be more concerned. To fret about her like some other husbands she knew, treating her like a child who wouldn't be able to manage crossing the road let alone the Atlantic. But she brushed aside the thought, as she did with any negative thoughts creeping in at this stage of their marriage.
For theirs had been a 'love' marriage. They had met on MSN, chatting over nothing and sundry at first, and then gradually more about their lives. He had mentioned he would be coming to India in December. She worked at a software outfit in a Delhi suburb, and his parents were in Delhi as well, so they arranged a rendezvous. They met at the only Ruby Tuesday in town – commonplace to him, coming from Atlanta now, but the first one in Delhi, and still one of the stylish hangouts of the young. They had hit it off right away, and her fears of meeting a forty year old bearded techie with dirty fingernails had been calmed. He looked like the photograph he has sent, a handsome, dark face, a thin black moustache and thoughtful brown eyes. Prompted possibly as much by his short vacation as by his ardor, he proposed the next day, over phone. She had accepted and they had spent hours at night working out logistics. It was childishly romantic and coldly practical at the same time.
 And it had gone really fast – telling her parents the next morning. Watching their incredulity.
'Over chat?' her dad has said 'What do you even know of him?'
Sharing their worry and understanding their fears, but persisting and defending a relationship she hardly knew herself. She didn't feel passion or maybe even love, just a breathlessness from the potential the relationship had to offer and a sense of faith in this new man and her own guts. After meeting Arjun, and his family, who came over that very afternoon, her family had begun to capitulate. The boy had a degree from IIT in chemical engineering and a good job. The boy's family seemed good enough, educated. Arjun's dad was a professor at Delhi University and his mother a 'government servant' – both of which lent them respectability. Her parents had wanted her to wait a year. Test the 'love' – but she was 27, tired of looking out for grooms, and adamant. It took her parents a week, but they came around. In the meanwhile, she secretly resigned from her job and began shopping a pared down trousseau on her own budget. When her parents came around, a wedding was planned for the next week – a hurried affair, with a priest and a sprinkling of closest friends.
Her parents had come through for her and as she waited for her plane to land in Heathrow she was grateful. She knew the explaining they would have to do – to family tentacles that stretched across generations and friends whose opinions colored and protected their lives. She knew too that they had given up, like her, their dreams of a spectacular wedding, complete with strains of shahnai, hundreds of people and a talked about menu. And they had given up the visits to long forgotten relatives with a wedding card, catching up with people on the fringes of their lives, but musts in the wedding party, the shopping, the debates, the stressful paraphernalia of a traditional wedding. To make up they had agreed that there would be a 'reception' to rival no other, when she and Arjun returned in a year. They stood by her at the small ceremony. Her dad hunted up contacts who with bit of pleading and a reasonable bribe would churn out a marriage certificate in a rush. They helped her plan her travels. But for years to come an acute sense of doubt and tension would cloud her memories of those tumultuous days.
Less than a week after the wedding, Arjun left for Atlanta, a proud groom, leaving his new bride with her parents (as she was only there till her visa came through).  And now here she was on her maiden cross-Atlantic voyage. She had spent the rest of her time in India meeting friends, shopping for what she and her mom thought were essentials to take along (house decoration items, spices, an epilator with a 110V plug and a pressure cooker) and packing up. She and Arjun chatted on MSN and occasionally on the phone, but suddenly they had nothing to say. A pregnant pause before their lives began.
Of course, the plane circled over London for an hour, making her tense about her connection as they landed. The elderly Saddarji, who had her fill out his immigration form took forever to pack his belongings and inch out of the plane. Once outside she followed the stream of people and signs, making friends with a gruff business traveler who offered her help if she needed it. She noticed that there were many Indians (or were they Pakistanis or Bangladeshis) in Heathrow. Gate agents, shop keepers, gate agent. Outside, waiting for her complimentary connecting bus to Gatwick, she saw a Mercedes pull up. The driver was an elegant Indian lady with hennaed hair, a short skirt and stockinged legs. She got out and started talking to someone in another car. Watching her, Ruchi felt a sense of pride. Indians here were doing well. A sign, she thought, of the potential of her life to come.
The fact that she was able to rush through Gatwick following her new friend and make the connection gave her new confidence. She did not have time to use her Dad's money and call home. She knew they would be worried and may even call the airline. The plane from London to Atlanta was better, cleaner and more spacious. The food was tastier. Yet the time dragged. There was nothing to see but blue sea beneath her and occasional white patches which she assumed were ice patches. The screen in front of her showed where her flight was – no where at that moment – but that slow white line seemed to slow down time.
Arjun was going to come and pick her up. Nevertheless, her dad had given her phone numbers of her aunt in Texas and of a person in Atlanta who she had never met but her dad knew from twenty years ago. His name was Mr. Pandey. Just for an emergency, he had said.
She filled up her immigration form, copying Arjun's address from her little notebook. The customs form filled her with dread. There was a line which said 'I am (We are) bringing
Fruits, vegetables, plants, soil, food insects (Y/N)

Meats, animals or animal/wildlife products

Disease agents, cell cultures or snails

Soil or have you visited a ranch/farm/pasture outside the United States.
It was the point 'a' that bothered her. In her suitcase, she had few boxes of Indian sweets, some spices and a bottle of pickle. She had not known that food was not allowed, and that she would have to declare it at immigration. First, she marked the form as if she had nothing to declare, and then changed her mind in an hour, requesting a new form and proceeding to list in great detail behind it what she had in her bag.
When the flight was over the US, she was amazed. For the first time, her window seat offered her views of a winding river, green fields below, some lakes, a cloud flecked looking glass she loved. What a beautiful land, she thought, remembering from her Geography books in school just how much agricultural and forested lands the US had.
At last the flight was over Atlanta. She peered down expecting to see sky scrapers but there was just a lot of greenery and roadways. At regular intervals, the roads stemmed out into smaller branches ending in a rounded cul de sac with driveways fanning out of them, a house perched at the end of each.
When they landed, the collective impatience of the travelers to get out of the Aluminum tube that had carried them so far was evident. There was a rush for the door, a polite rush, with people waiting for seats ahead of them to file out, since this was across the Atlantic, but a rush just the same.
There were two queues. She went for the longer line for foreigners and immigrants. The Indian man from two seats ahead sailed through the aisle for citizens and permanent residents. And there, holding in her urge to use the bathroom, while waiting in the long queue for the rest of the world, she had her first desire to have a green card.
Thanks to her overzealous declaration, the customs lady, a huge woman who nevertheless looked very fit and strong, pulled her over to the side. She had to lift her heavy bags onto some machine which scanned them for something which it did not find, and then she had to check in her bags again to receive them once more at the airport terminal.
Arjun had told her none of this, and she had to question several people around to make sure she was not sending her bags on a journey of no return. He had just said he would be there at the top of a very tall escalator once she got out of the train.
By now she was impatient, tired, ready to leave the airport and see the US. Her earlier excitement was spent. She felt alone and lonely and vulnerable. Perhaps he would bring her flowers. She would get to ride an American car. She brightened at these thoughts.  She followed another family through the airport to the train and up the escalator. It was taller, probably three times taller than any escalator she had ever seen. Each step was crowded with people from all over the world and their strolleys. A few Indians, but mostly people about whose lives she knew nothing. At the top was another crowd. Limo drivers with placards, families, men and women in equal proportion tired with waiting or eager with expectation. She searched the crowd for the one face she knew but it was not there. There was no Arjun, no smile and no flowers. Just her and her purse with Mr. Pandey's phone number and her little strolley.
(continued – Second endition here and third edition here)
Last 5 posts by Amrita Bakshi