The Pursuit Of Creativity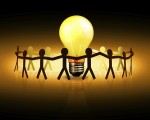 A few months back, I had written a blog titled The Creative Mind, my layman perspective on the importance of creativity. I didn't know it then, but what started off as an intriguing topic for research at first, has turned into an invaluable source of learning and discovery for me. While researching about the ways of nurturing creativity in kids, I came across some very interesting finds on the importance of creativity that I'd like to share here.
I was deeply moved by this speech by Sir Ken Robinson, an internationally recognized leader in the development of creativity, innovation and human resources. He makes an entertaining yet profound case for creating an education system that nurtures creativity as much as academics. Robinson's comment "We are educating people out of their creativity," resonated deeply with me, perhaps because I could relate to it personally. The more I advanced in my formal education, the less creative I kept getting. My education had focused mainly on teaching application of existing knowledge to the real world problems and not at all on the process of creating new knowledge or solutions.
"In our competitive and evolving economy, being logical and analytical is no longer enough. Left brain is out. Right brain noodling, the kind of processing that is intuitive and creative and synthetic, will soon rule the day." – Daniel Pink, 2008. Daniel Pink's provocative book A Whole New Mind: Why Right-Brainers Will Rule the Future charts the rise of right-brain thinking in modern economies and describes the six abilities individuals and organizations must master in an outsourced, automated age. (I want to thank Tana, a fellow bloggermom, for introducing me to the work of Daniel Pink.)
The K12 lab, an educational research program at Stanford University's Institute of Design, promotes application of product design techniques to education. They want to loosen the narrow, rigid process of traditional learning and show teachers how to tap into students' deep wells of creativity. Melissa Pelochino, a teacher and a K12 lab convert, after attending a workshop observed: "Our kids spend their time trying to figure out what answer the teacher wants to hear rather than on what they want to say. They don't know how to process information without a how-to guide, a model and an example for everything. We need to be asking our kids questions that don't have predetermined outcomes. We need to let them explore and construct and investigate and try and, most important, fail."(Source URL: http://www.edutopia.org/classroom-design-k12-laboratory )
If you are intrigued by the concept as I was or even slightly interested, I'd be sharing a variety of creative thinking activities for kids that I have learned over the past few months, in my next blog. Not only do they encourage creative and higher-order thinking but are really fun to do at home with kids, as I found out.
Last 5 posts by Neelam Kamdar Bhamani