The Santa Question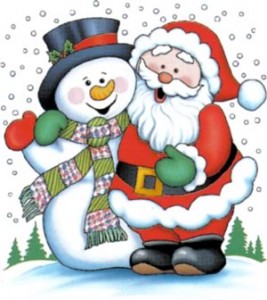 I sometimes wonder how do other moms and dads deal with the age old and inevitable kids' question "Is Santa real?"…..the one that falls in the same category as "Where do babies come from?" and "Why don't girls have pee pees?"
As we approach this most popular of all holidays among kids in the US, I find myself in a conundrum trying to find the most appropriate answer. It was easier when the kids were younger and believed everything they heard or saw and the questions were simpler and limited to "Is today a holiday?" or "Can I have candy for breakfast?"….oh, how I miss those days when most questions could honestly be answered by a simple "No!"
So last Christmas, when my then seven year old son started interrogating me about Santa one day, I was completely caught off guard. In my quest to preserve his innocence for as long as I can, I went on the defensive. Quick on my feet, I had an answer for every logistics-related question that my over-analytical son threw at me. Just to give you all an idea, the questions included "How does Santa enter houses that do not have a Chimney?" or "How come Santa's toys are packaged the same as Toys R Us'?" and the like…
In retrospect, after having put some thought into it, I have realized that if your child is old enough to challenge Santa's existence, he is probably old enough to know the truth. Being honest with your child is more important than trying to keep the magic alive.
This year, having decided to be honest, I was prepared for the line of questioning I thought was coming any day now. But a few days ago, I overheard my eight year old telling my five year old that Santa isn't real and that it was mom and dad that put the toys under the tree. I felt a pang in my heart on hearing that, even though it was exactly what I was planning on telling him anyways. But then to my surprise, I sensed a hesitation in him. He had a look of disappointment. It was almost as if he didn't want to believe what he knew to be true, what his friends at school had probably let on. So when he looked questioningly at me seeking confirmation for what he had just divulged, mama bear instincts of protection took over again. I told him that I believe Santa is real. Quick on my feet again and borrowing heavily from "The Polar Express", I said matter-of-factly that Santa is real only for the people who truly believe in him. Once someone stops believing in Santa, Santa stops visiting them and their mom and dad have to step in to get Christmas gifts under their tree.
Both my boys announced in unison "I believe in Santa" and I replied "I do too" and just like that magic was preserved for yet another year!
Last 5 posts by Neelam Kamdar Bhamani