The Writing on my Forehead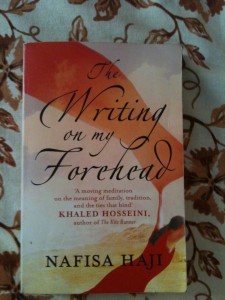 The Writing on my Forehead by Nafisa Haji is a book about Saira, a Muslim American of Indo-Pak origin. Free spirited and rebellious Saira has grown up in California and from her childhood has been caught between the boundaries for freedom and independence in the American way and her family's traditions of Indo-Pak culture. For a wedding of a relative, Saira travels to Karachi where she discovers the hope, pain, joy and passion that defined the lives of some of her family members like her grandparents, a beloved aunt and her parents, she begins to realise that at times the course that we take to travel on the journey of life is not necessarily a matter of choice but at times by compulsion.
I have often wondered what its like to have a relative or a loved one hailing from the other side of LOC, especially when the tension between India and Pakistan continues to grow. The novel touches upon why her mother's side of the family decided to migrate to Pakistan during partition while her paternal grandfather remained a Gandhian and continued to live in India.
Haji writes with detailed description of place, people and even emotions. The characters she creates come to life as you move along the novel and you tend to fall in love with some of them, and admire the courage in others.
I thoroughly enjoyed the novel and recommend to all those who love family stories. While reading this book I also realised how important it is to share the stories of our own family, our ancestors with our children so that they know where they come from.
Last 5 posts by indrani