Valentines day for very young kids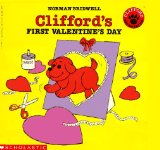 Kids too young to celebrate valentines day or aren't in school yet?  Instead of all those chocolate hearts and candy, get them a simple board book about Valentine's Day.
I got my sons Where Is Baby's Valentine?
 by Karen Katz and Clifford's First Valentine's Day
.
If you have to make cards opt for the homemade kind where your child can help in the process. They always feel so proud to give these to their friends. Take simple stock paper and cut out heart shapes as a start.
Last 5 posts by Suzie