Vishu Celebrations in US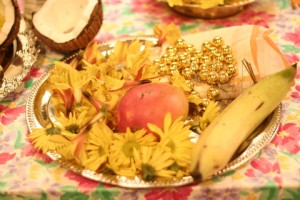 Vishu is a mallu festival.Its usually celebrated on April 14th. Its is the New year for Kerala. The most important custom of the day is 'Vishu kani'. On vishu, the first thing you should see should be the sight of Kani. My Mom used to make the kani the day before. She used to get yellow flowers,jewelry,rice,mirror,an oil lamp ,some vegetables in front of Lord Krishna.My mom  would then wake me up in the early on the morning of Vishu and walk me blindfolded and would take me to the prayer room where she has the vishukani arranged. Also, older people will give money to kids for a prosperous year. I would wait for everybody to give us the money:-). This was my favorite festival of all time!!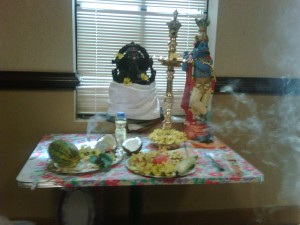 Now I do the same for my kids. On Vishu day I prepare a tray with rice, jewelry, coins, yellow flowers, a small mirror and a picture of Lord Krishna – the Vishu Kani – and light a lamp. I then follow the same custom with my kids, and also go to the temple for the Vishu celebration there.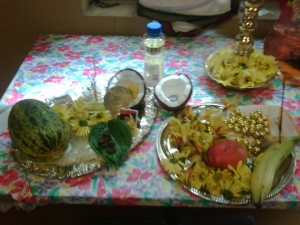 Last 5 posts by Pry