Whatever happened to Enid Blyton?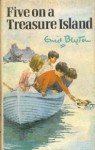 As a girl, I lived on Enid Blyton. Famous Five. The five find-outers. Secret Seven. The … of adventure series. Even dear old Noddy. The sausages and eggs for breakfast (where I never got to eat sausages). The potted meat sanwiches. Scones for tea. Camping on Kirrin island and sleeping on heather (again, camping was not in vogue in urban India).
Did you read those?
So when I was invited to the first pre teen girls birthday party here in the US, I went to Barnes and Nobles and combed the kids section. Nothing. I asked the customer service lady and was told there was only one book available which would arrive in eight weeks! And it wasnt even some of the more popular ones like Famous five.
I was shocked. I though those books were perfect for kids – the fun factor, the adventure, the focus on values. I loved her easy language, and stories that flowed and piqued the imagination, but also the way she introduced larger words to her readers well disguised in the flow. These were the stories which got me addicted to reading, a gift I treasure till today.
Some investigation on Google showed that the apparent reason was that Enid Blyton promoted old stereotypes, even some racist and sexist one. Such as poor Anne always doing the beds and cooking on Famous Five adventures. And all her main characters were white and English.
Well, I give you all that but I just just found that unbelievable. I grew up a feminist on all these books, and they certainly did not make me love stereotypes (but then again. I was Indian). On a trip home, I was glad they still sold Enid Blytons back there, though in terrible print, so I stocked up on those.
And Noddy is a TV show there, properly edited, which I respect. Now…..have you read any Enid Blytons? Is it available in other parts of the world?
Or am I just too old fashioned and time has moved ahead from these books.
 Here's a wikipedia link to Enid Blyton.
Last 5 posts by Amrita Bakshi