What's your hotpocket?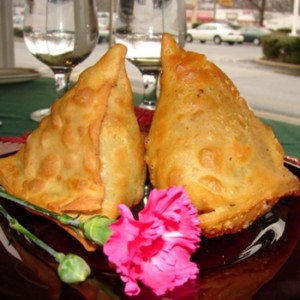 So, just over two weeks ago, I returned from India. It was a trip after two years – a rather long hiatus for me. But more momentous than that, was the fact that it was JW's first ever trip to India.
Three-and-a-half years ago when I first met JW, he had never left the shores of North America. What? I had exclaimed. That first summer there was a fundraising event for the People for the Progress of India (PPI) where documentaries about education in India were going to be screened, a Bharatnatyam recital was to be performed, snacks and chai were to be served … and to top it all, the legendary film-maker Shyam Benegal was to deliver a speech. My South-Dakota raised, ex-rancher-now-Microsoft-employed boyfriend was unimpressed. So I left him snoozing on his couch with the Sunday afternoon football game on, and attended the event by myself. Through all the mixing and attending, in typical desi-woman fashion, I couldn't help but save two samosas for JW. I wrapped them in a paper napkin and stuck them in my purse. When I returned to his house in the woods of Everett later that evening, he was still snoozing, and the TV was playing some awful noisy nonsense. I stirred him awake and said sweetly, "Here, I got you a treat," pulling out two now-soggy samosas, the drool barely staying put in my mouth. He squinted through groggy eyes and said, "What are those?" "Samosas!" I offered cheerfully, but he still looked suspicious. He bit hesitatingly into one, and soon he was chomping away. Halfway through it, he said in a satisfied tone, "Oh! These are your version of hotpockets!" "What? You're comparing a delicately prepared samosa to a petty little hotpocket?" I protested indignantly, entirely miffed that in his ignorance, JW had reduced hundreds of years of cultural refinement to a crude, frozen fastfood.
A few months later, JW joined a different group at Microsoft, which is international and works virtually from all over the world. His first day of work with this new group was … in Prague! So, here's a guy who's never left North America, and now he goes to Prague, the ancient culture-capital … where I had dreamed and dreamed of going?!? At the time he received this news, I was myself in Hong Kong, working on a big project with a difficult client. Super-envious and hyper-excited, I emailed back, "Wow! Are you ecstatic or what?" With his typical nonchalance and understated style JW responded, "Yeah, I'm curious to see what the Czechs call their hotpocket."
Samosas did become JW's favorite Indian food, and over time he learned to savor them with chai over a Bollywood flick at the gritty movie theater across Lake Washington. He also learned to love paneer, all types of daal, goat curry, egg curry, bhindi, baingan, bandh-gobhi, rajma, parathas, gol-gappas … though he never did master any of their names (gol gappa = "water balls"). And over the three years we not only explored some beautiful country in the U.S., we also ended up visiting five countries  together – Mexico (Veracruz: my conference), the UK (London: his work and my work), Germany (Munich: his work, Goettingen: my sister), Thailand (Bangkok: his work) … and most recently, India (New Delhi, Mukteswar, Nainital, Kolkata and Santiniketan). Sometime during this period JW also went to China for work, and I went to Peru on a trek to Machu Picchu.
While I tend to observe and revel in the differences and unique traditions in each culture – the nuances, the peculiarities, and the idiosyncrasies – I've realized that JW, despite seeing differences, does believe that at the end of the day "people are people," wherever they are. This was evidenced by the unflinching ease with which he negotiated the narrow lanes of Old Delhi, later haggling for a shirt in the screaming mess in Janpath and wading through the mayhem in the New Delhi railway station for our only chance to meet one of my aunts – all on his very first day in India. JW led the way everywhere, as if he may be from there, and as if I were the disoriented alien struggling to find my way, stumbling through the chaos like a stunned mosquito just hit by Baygon spray. He ate street food more readily than I (and of course I contracted some deadly stomach affliction before he did), named all the crops and chicken and cow breeds as we drove through the rural north towards the Himalayan foothills, identified the wild flowers, animals and birds in the mountains, and generally became one with everything. In Kolkata he even watched IPL cricket with my family every night, learning to appreciate Tendulkar's batting genius and Ganguly's Bengali popularity, and my mother and I enjoyed our bets about who between he and my dad would begin snoozing first. My parents and best friends were amazed that JW was unfazed by the intensity of India, simply soaking it up and accepting it all. The only time he was caught offguard was when two of my nieces began singing Biblical hymns with equal fluency and beauty as the Rabindrasangeet they had just rendered. Catching JW's bewildered expression my father couldn't resist a triumphant wisecrack, "Aha! North Kolkata has beaten South Dakota!"
As for me, I've gradually overcome my indignance at the ethnocentric slur against the Great Indian Samosa, and my own ethnocentric claim that it is original, singular and historically significant. I've come to notice and acknowledge that indeed there's some cousin of the samosa in almost every culture: the Greek spanakopita, the Spanish empanada, the Italian calzone, the Puerto Rican pastel, the Jamaican beef patty, the Polish pierogi, the Russian piroshki, the Afghan bolani, and even the Chinese / Tibetan dumpling! Oh, and let's not forget the American hotpocket.
Indeed, people are people. What's your hotpocket?
Last 5 posts by Shahana Dattagupta