Yeh – Shen : A Chinese Cinderella Story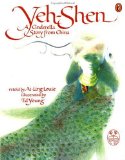 Did you know that Cinderella was from China?
The babe's school does a great job of sending him story books from all around the world, and this week, i got the book Yeh-Shen: A Cinderella Story from China
. When I got the book I was thinking, oh, this must be a Chinese copy of the Cinderella story, just like the many Hindi movies I used to see in India that are copies of famous American ones like Sound of Music.
So I was really not expecting much and as I read the story to the babe, the stories seemed amazingly similar within the cultural contexts, right from the wicked step mother and step sister down to the beautiful slippers. When we flipped back to the introduction, I read that the first written account of this story was from the period fo the T'ang Dynasty (618 to 907 AD). Whereas the first written account of the more well known, European Cinderella is only from 1634!
Somehow as the introduction says, Cinderella made her way from Asia and Europe. And it suddenly made sense – the Chinese are well known for their emphasis on tiny feet as a sign of beauty, so the smallness of the slipper as a sign of Cinderellas unmatched beauty seems almost a giveaway of the cultural origins of the story in retrospect.
But how amazing. Wouldn't it be cool if kids could have Chinese Cinderella dolls?

amtrak promotion code
corpus christi texas
how much alcohol is in beer
traverse city mi
college essay topics
Last 5 posts by Khushi